Responsible Pesticide Use: Module 3
Module 3: Promoting Responsible Use Among Farming Communities
Module overview
It is important to have a thorough understanding of responsible pesticide use and associated pest management practices. However, the value of this knowledge can be multiplied several fold if you also know how to effectively pass this information on to farmers and convince them to change their behaviour. In other words, to get growers to adopt safer and more sustainable pest management tactics on their farms. The concept of behavioural change is key. Many educational activities, even if they are successful in giving a target group the knowledge and skills required, must be judged as unsuccessful if behaviour is not influenced. It is one thing to tell people how to do things properly, but quite another to get them to adopt different ways of working, particularly if they do not understand the logic of the improved methods, or see the advantage of change. This is a particularly common concern when promoting responsible use of pesticides. Farmers may know a certain activity is wrong or dangerous but continue to practice it.
In this final module we would like to give you some references, examples and ideas about designing change programs for farmers, and let you consider how these principles might be applied.
We will start this module by giving you a suggested approach to designing a change program. In the promotion of responsible pesticide use, training and development professionals are constantly looking at ways to use modern information and communication technologies (ICTs) to facilitate access to knowledge and information in rural areas. For this reason, links to websites with information on these approaches will be provided.
Designing Change Programs
A change program can be considered as a series of sequentially planned learning opportunities to achieve a learning objective that alters and improves the way things are subsequently carried out by the target group." The content is essentially the information you feel to be important for any particular target audience, linked to a reasoned explanation of why different working practices are desirable (why it makes sense to do things differently). Methods that you use to deliver your content and bring about the desired change include such activities as discussions, demonstrations, meetings, tours, contests, radio and TV shows and commercials, print media, etc. It often helps to get people to rehearse the new methods themselves. In other words to practice unfamiliar (improved) ways of working, so that their brains and bodies become accustomed and habituated to the new modus operandi and it becomes the norm for them. Merely discussing different working practices rarely alter behaviour particularly if the level of communication is not appropriate to the people who are being trained, see below.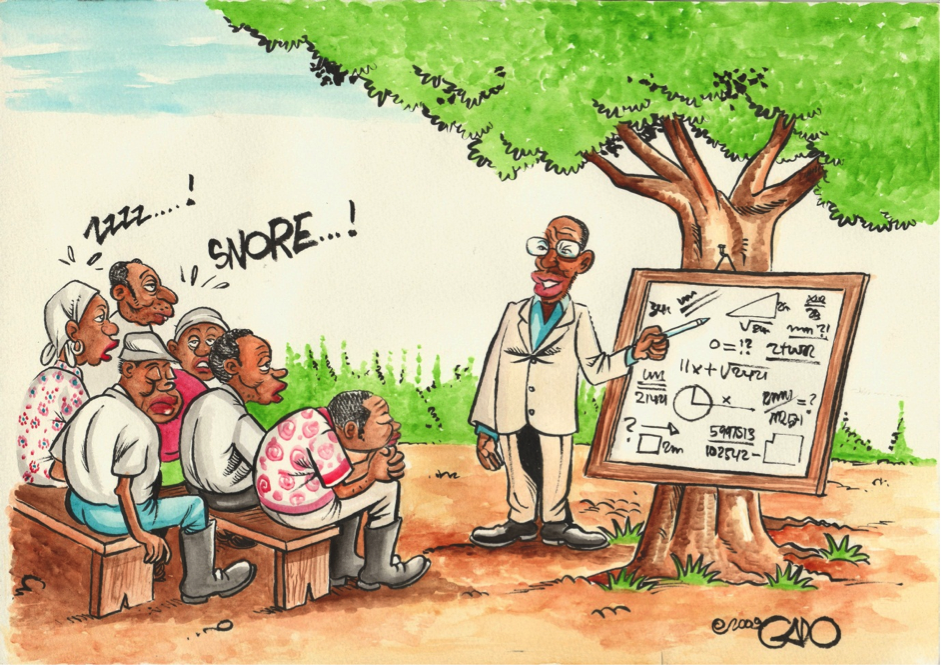 Designing an effective and appropriate change program involves a number of steps and generally includes:
Specification of target group: the planning process usually starts with a choice of target group. Safe use projects target diverse clientele including: primary and secondary school children, extension agents, farmers, retailers, development workers.
Needs assessment and goal identification: allows planning to be guided by client needs. Planners can use a variety of methods including:

screening records and reports
direct observation of behaviour
focus groups
face-to-face interviews
questionnaires.

Developing a sound plan of action: a plan that identifies the problem and states the means for addressing that problem. Specifies learning opportunities by content and method. A plan should include:

A situational statement or rationale for the program -establishes the need for the program and sets the stage for specifying the program's objectives and activities.
Purpose of the program – goal statement of what the program is intended to do.
Description of current situation – practices, behaviours, and consequent conditions (use quantitative data, if available).
Description of preferred situation – what the situation could or should be (use research findings, adoption theory, practical experience, or comparisons to identify the preferred situation).
Significance of change – tells why the program is important and what difference the program will make if it achieves the preferred situation.
Reasons for the gap between the current and preferred situation – why the need exists. Includes identifying other factors which influence the attribute or behaviour of the target audience that your program is intended to change. These factors also can help you define the specific content of the educational program and the methods for delivering the information.
Program logistics – the financial and time aspects of the program. Specifies format, schedules, staff needs, budget, and facilities.

Identifying resources and constraints: brings a planning effort into perspective and ensures that planning is performed with people-not for people. In addition, it ensures that everyone involved understands the dimensions of the effort. Materials and equipment.
Determining objectives: the process of analysing the goal statement (step 2) and breaking it into workable parts around which programs and activities are developed. Objectives describe the intended results/impacts on the targeted clientele and must be measurable.
Designing the program focuses on specifying the methods, instructional techniques, activities and schedule that will bring about the desired outcomes stated in the objectives.
Marketing the program: to ensure participation and to communicate what the program is all about. In marketing, consider the four P's: product, price, place and promotion.
Program implementation: activates the goal statement, the objectives, the methods, and the activities previously planned.
Evaluation can be used at any step in the pro-gram planning and implementation process. For example, evaluation can be used during needs assessment to develop a program or improve an existing program. Impact evaluation is used to determine if a program met the goals and objectives, identify program impact on individuals and communities, provide documentation for stakeholders, and meet account-ability requirements.
Further information
Strategic Extension Campaigns
Strategic extension campaigns (SECs) use mass media to convey research findings and recommendations in a simplified form in order to motivate attitude and behavioural change. SECs have been shown to achieve rapid impact because they reach large numbers of farmers in an area all at once, including remote locations normally not visited by extension trainers.
Traditional Extension Techniques
Although the traditional training via individual farm visits frequently proves to be too costly or demanding of resources, it can be effective. Below are links to FAO resource sites with extensive information on various extension methods and extension training.
Information and Communication Technologies
A major problem rural populations have traditionally faced has been their inability to access needed information and knowledge.
But now, with the explosion of new information services, via computers, mass media or smart phones, even remote areas in many developing countries are able to take advantage of global information sources. Information and Communication Technologies (ICTs) are, more and more proving their value in addressing the information and knowledge needs of rural people. While this trend towards increased access to information will continue, the value of practical guidance and advice from peers or extensionists must not be ignored. It is not easy to become a brain surgeon by reading a book!
Example Training and Extension Programmes
Before you go on to design your own change program you might want to take a bit of time to look at some other initiatives, and what has been said about them. An excellent way to learn is from other's mistakes and successes. The two main examples we would like to highlight here are FAO's Farmer Field School approach and the Safe Use Programs sponsored and implemented by the Global Plant Sciences Industry. As you will see, both of these approaches have been shown to have strengths and weaknesses.
FAO Farmer Field Schools
The IPM Field School Programme is a field based programme that provides learning-by-doing experiences usually for groups of up to 25 farmers. This approach to promoting responsible use of pesticides deals with the topic in the context of IPM rather than over-reliance on chemicals. The field schools also minimise risks associated with the use of chemical insecticides and where possible by advocating that they are not used or used less often and in lesser amounts. The field school may last for a full cropping season and meet at least 12 times for several hours per meeting, so clearly participants must make a strong learning committment. At each meeting, farmers are guided through several activities, using field observations, analysis, presentations and group work. For a crop such as rice, participants are given the opportunity to observe and analyse the dynamics of the field ecology of the crop across a full season. Schools utilise the four IPM implementation principles previously discussed:
Grow a healthy crop.
Observe fields weekly.
Conserve natural enemies.
Farmers become IPM experts.
CropLife International's Safe Use Projects
CropLife International is the global federation that represents the plant science industry and presents their collective view on crop protection, including pesticide based methods and agricultural biotechnology. CropLife strongly advocates use of an IPM strategy, rather than overall reliance on their pest management technologies, and safety is a central theme of their programmes, both for the environment and for the people who farm using their products. The organisation and its members have developed many safe use projects as part of a commitment to the FAO Code of Conduct for the Distribution and Use of Pesticides. Collectively the plant science industry has made a firm pledge to promotion of stable and sustainable agriculture throughout the world.
To achieve these aims the industry has sponsored multiple Safe Use projects in collaboration with national and international organizations, government agencies, donors, aid agencies, NGOs etc. The AgLearn training materials are part of these efforts whose overall objectives are:
To effect sustainable change in the culture of the people such that there is a significant and measurable improvement in meeting the latest international safety standards;
To draw attention to the need for joint action by the public and private sectors;
To act as pilot programmes to stimulate other organisations to develop similar initiatives in other regions/countries;
Details of the CropLife Safe Use training programme in Vietnam can be found at http://www.croplife.org/case-study-vietnam-safe-use